Christmas Eve
Scroll Down for Service Times
The arrival of Jesus was announced by the angels with a message of Good News for all people.  This was an invitation not just for the shepherds, but for all of us to come and worship the newborn king.  If you do not have a church home, we encourage you to join us for a special Christmas Eve service in-person or online. A morning worship service will be at 10am.  A Contemporary worship service will be held at 4pm, Traditional worship service at 6pm.  Special Preservice Music will begin 15 minutes before each service.
YOU can invite someone too!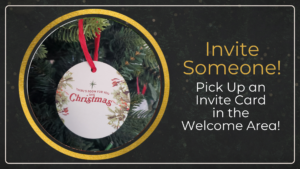 Use an invite ornament, available on the tree in the Welcome Area, beginning December 3.  Stuff them alongside your holiday cards letting them know you'd love for them to join you in-person or online, don't forget to include which service you'll be attending!
Hourly Schedule
Christmas Eve Services
10:00am

-

11:00am

Morning Worship
4:00pm

-

5:00pm

Contemporary Worship

Led by the Praise Band
6:00pm

-

7:00pm

Traditional Worship

Led by the Choir