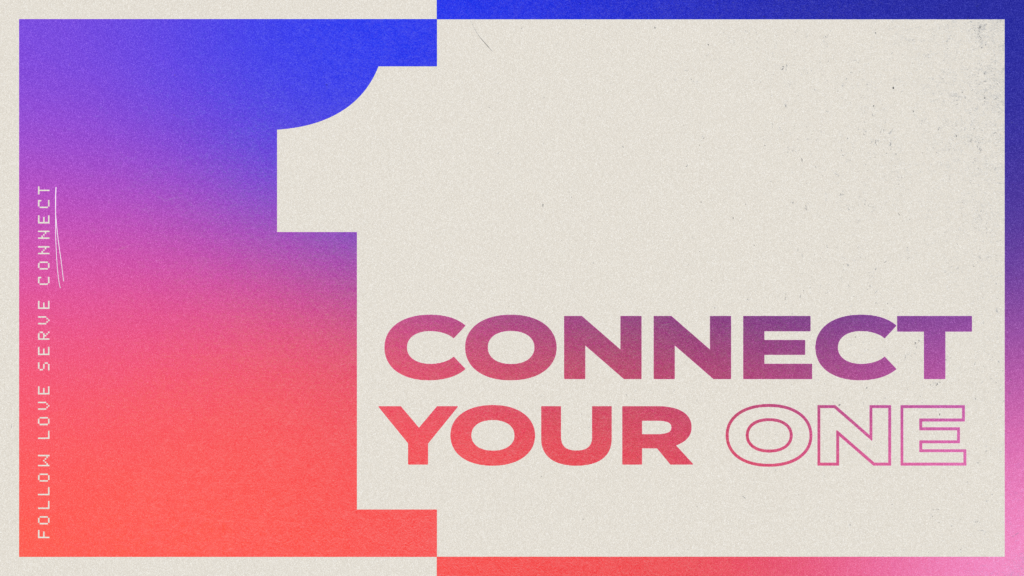 Pray With Us!
After each worship service, you are invited to come forward to pray together over the whole Connect Your One event with the Elders.
What is Connect Your One?
I am excited to tell you about a new initiative we are doing at The Fountain called Connect Your One.  The heart of our mission is to Connect People to Jesus for Eternity.  As a church, we want to see more people know the love of Jesus and receive the healing and life that he offers to anyone who believes.  God wants to use you to accomplish His mission here on earth.  We all want to see more people connected to Jesus, but we can sometimes feel intimidated when it comes to making that connection happen.  
Connecting people to Jesus doesn't have to be complicated.  Sometimes, it can start with something as simple as an invitation.  Imagine what would happen if one Sunday, every single person in our church were to bring one person with them to hear about Jesus.  If we all connected just one person to Jesus, we would see an explosion of people coming to faith and understanding God's love for them.  
Sunday, March 6 will be Connect Your One Sunday. We are encouraging everyone to invite one person to join them for worship that morning.  Connect Your One is about so much more than a single Sunday morning.  On March 6, we will be able to see the kind of impact we can have when we all work together.  
We will spend the month of February praying and preparing for the people we are inviting.  The February sermon series will explore God's heart for people and how he wants to use us to reach them.  We have put together this page with information to help you get started, to follow along with the February message series and it will continue to get updated as we journey to Connect Your One Sunday on March 6!
Today I am inviting you to join me.  Will you answer the call to Connect Your One?  I hope that you say yes.
Pastor Elliott
We would love for you to consider making Fountain of Life your church home. The first-century Christ-followers made a special commitment to a local church where they would gather to encourage one another, as well as to serve God and others. We urge you to do the same with us. A New Member Series is held during the Sunday morning Bible Class Hour (four consecutive weeks throughout the year) for your convenience. Whether you want to become a member or just learn more about The Fountain, this class is designed is for you. Please let us know that you are interested and we will contact you when we start a new class.
Sign Up for the Next Class: